Our Analytical Services laboratory is equipped with state-of-the-art techniques and networks which are compliant to 21 CFR Part 11 and are well qualified. We specialize in the analysis of highly potent compounds.
A spectrum of analytical instruments available:
UPLCs and HPLCs with PDA, UV, CAD and RI detection systems
GCs with headspace samplers and FID detection
Ion Chromatography with Conductivity and UV detection system
Hyphenated instruments such as LC-QTOF (Agilent), LC-MS/MS (Shimadzu both 8045 and 8060 models) and GC-HS-MS/MS (Shimadzu 8040 TQ)
FT-IR with Prota software
Stability chambers (Binder, Germany)
ICP-MS (Agilent 7800)
Dissolution apparatus
UV Spectrophotometer
Karl-Fisher instrument
Auto-Titrator instrument
Coulometric KF titrator
Equipment is connected to Empower 3 and Lab Solutions Network servers (two separate networks). These servers are a requirement by the FDA to ensure data integrity.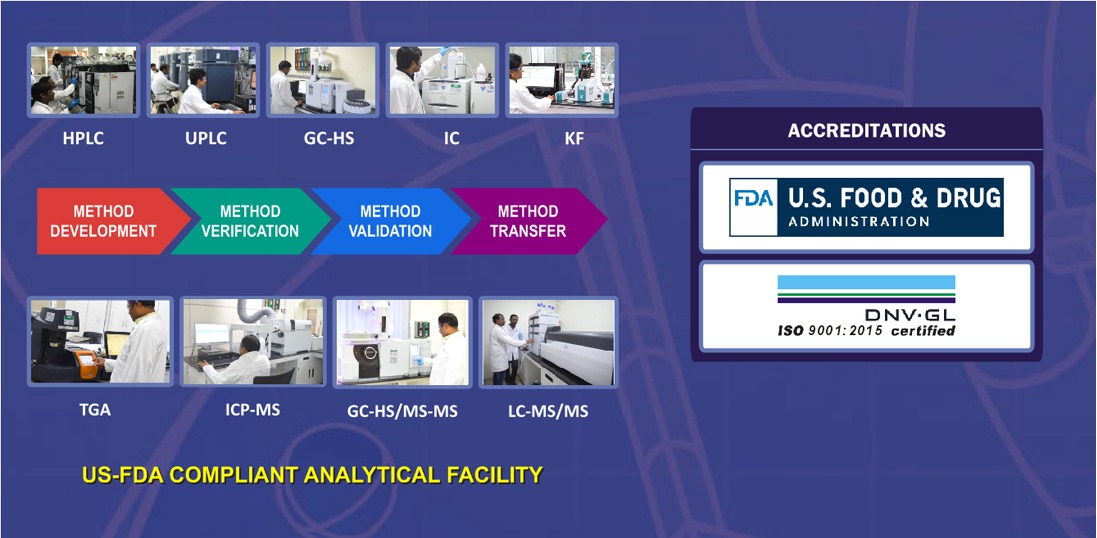 Major Microbiology Equipment:
Bioquell Isolator
Autoclave
Symbio sterility pump
Spectrophotometer (Kinetic LAL Test)